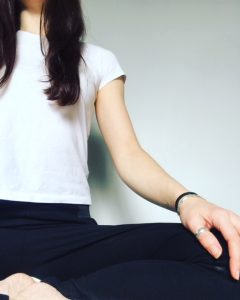 A private yoga session is that moment in your week where you allow yourself  time to work and progress on your health and wellbeing. With one to one support and mentoring you will be guided through: specific yoga asanas, positive yogic lifestyle changes, meditation techniques, breathwork (pranayama) for vitality.
To book: email juliehydeyoga@gmail.com or phone 086 3302038
While it can be really energizing to practice yoga in a public class, sometimes they just aren't specific to an individual's needs at all times of their lives. We often need a little bit more attention to really get the most out of the practice.
Private Yoga sessions are perfect for those who:
Have a busy schedule and find it difficult to get to a scheduled group class
Are in recovery from illness or injury.
Are nervous about jumping in at the deep end and would prefer a gentle more personal introduction to yoga.
Are pregnant and looking for a natural healthy pregnancy and birth.
Experience anxiety or depression, body image issues, an autoimmune disease, post partum depletion or something else that requires closer attention to detail.
Are self-conscious about practicing in front of other people.
What's Involved?
The Private Yoga Coaching Program involves 6 great sessions where we cultivate a daily practice (sadhana), discuss your progress and practice specific yoga sequences suited to your own individual body. After each class you will be given a summary of the session, along with relevant notes/tips etc. Note that most of the program will really occur outside the one to one sessions in your everyday life so ultimately the results depend on you; what you put in, you will get out. Sessions can be online via Zoom or in studio.
All equipment is provided. 
Price:
1 hour sessions start from €65
Testimonials: 
"Julie is an excellent yoga teacher, I started yoga a few months ago with Julie and I practice at home using Julie's YouTube videos which are tailored to everyone & are very relaxing and easy to follow. I always feel great after a session at home or after one of Julie's classes." Lynda O'D.
"Well today I fully realized the benefit of the Yoga to me so far. Went on a mountain hike for 5km, normally it kills me. I would have to stop a thousand times, be out of breath and pain in my chest and legs. But today I literally marched it 🙂 no pain and not out of breath…so proud of myself. So thank you" Eimear K
To book: email juliehydeyoga@gmail.com or phone 086 3302038