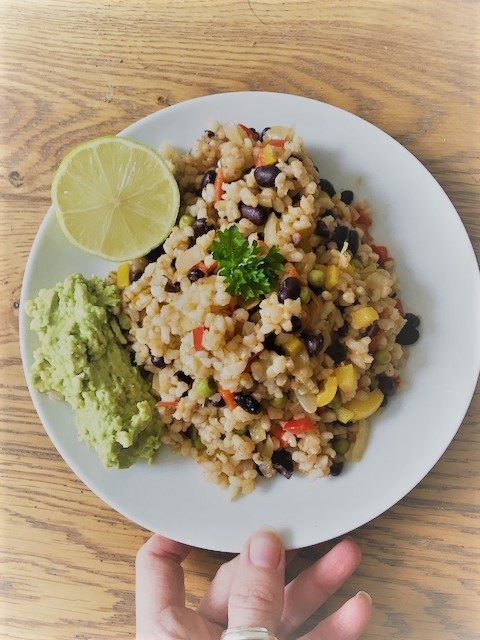 Simple Tasty Rice and Beans
I'm trying to get on a weekly meal plan so I can theme each night's dinner to make grocery shopping and meal prep easier. So, for example if Thursdays are a 'Beans' theme then I could make, Veg Chilli with kidney beans,
bean patties
or Fahjitas with refried beans or this recipe right here; Simple Tasty Rice and Beans.
I think its all about keeping things as simple as possible and minimizing excess decision making on this motherhood journey.  Its a healthy recipe with no nasties. Even though beans are super nutritious, excellent for vegetarians and packed with protein, they can sometimes be difficult to digest so make sure to load up on the digestive spices in this recipe such as the black pepper.
I made enough to have as left overs the next day too. My motto is "cook once, eat twice" so I generally get 2 meals out of one dinner. Everyone in my house loved this recipe (including my toddler) and I hope they will in your home too.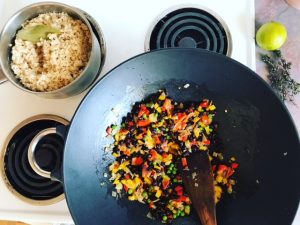 Simple Tasty Rice and Beans
Ingredients
1 cup brown rice (or basmati)
1 bay leaf
2 tablespoons tamari or soy sauce
1 tablespoon fresh thyme (dried oregano would work also)
1 tin organic black beans drained and rinsed
1 onion
1/2 red pepper
1/2 yellow pepper
1 cup petit pois peas
2 cloves garlic
1 large tomato diced
1 teaspoon cumin
3 tablespoons apple cider vinegar
1 lime
Method
Cook rice according to packet instructions in a saucepan with the bay leaf, thyme and tamari. (Note that brown rice takes a lot longer to cook than white basmati).
Turn on a wok or large frying pan to medium heat and add some olive oil.
Saute onion for 2 -3 mins and then add in garlic. Saute until onion softens and becomes translucent.
Next to the wok or pan add tomatoes, peppers, cumin and apple cider vinegar. Cook here for 5-10 mins until the peppers are soft – it should start to smell pretty good.
Next add your peas and mix through.
Lastly pour in the black beans, cooked rice and a good squeeze of lime juice.
Combine all ingredients and season with salt & pepper as desired.
Serve with lime wedges and guacamole.
Enjoy!