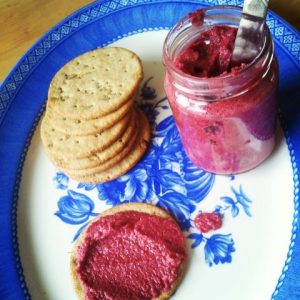 I love the earthy taste of beetroots. Its a great source of iron and folate (naturally occurring folic acid, which is very beneficial for all those pregnant mamas out there). Here is an easy recipe for a beetroot dip that super versatile.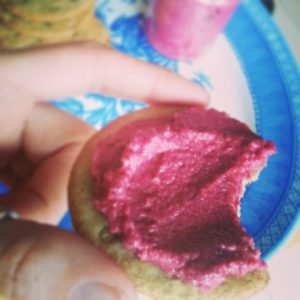 This dip can be used as:
A dip for crudites (sliced raw vegetables like celery or carrot sticks) and crisps
A spread for sandwiches and wraps
A snack spread on crackers
Prep time: 5 minutes
Cook time: 2 minutes in blender
Makes: 2 jars
Ingredients
3 organic cooked beetroots chopped into quarters
1 tablespoon of tahini (this is sesame seeds paste and can be bought in any health food shop)
1 tablespoon of sunflower seeds
1/4 teaspoon of salt
3 tablespoons of hemp oil (or extra virgin olive oil)
1 tablespoon of lemon juice
1 clove of garlic grated and sautéed in oil
Method
In a food processor put in all ingredients and blend until smooth.
Enjoy!