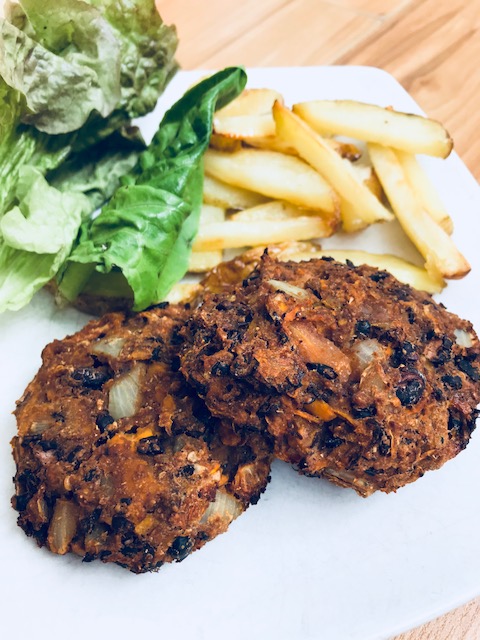 Black Bean And Vegetable Patties
Black Bean And Vegetable Patties
These are new to my recipe list. As much as I love cooking, I often find it difficult to constantly be creative and ensuring that we always have a good variety and balance. These patties got the seal of approval from my little boy who ate them hot (and cold!). Pretty quick and easy to make, they will no doubt be a regular on our plates. They can be put in burger buns with all the toppings or with chips and salad. They are also vegan and glutenfree.
Black Bean and Veg Patties
Cook Time: 20 mins
Makes: 7 patties
Ingredients
1 tin black beans
1 onion
1 clove garlic
1 tomato
1 small sweet potato peeled and chopped
1 grated carrot
1 tablespoon ground cumin
1 teasp ground coriander
½ teaspoon chilli powder
2 tablespoons of flour (I used gluten free flour for this)
Salt and pepper to taste
Method
Preheat oven to 180 degrees celsius.
In a saucepan add sweet potato and water and bring to the boil. Once cooked, drain and mash.
In a large frying pan, sauté onion in olive oil until translucent.
Add garlic, tomatoe and all spices and cook for 5 minutes.
Add grated carrot and cook for further 3 minutes.
Drain and wash black beans and make sure all excess water is gone.
Mix in the black beans, sweat potato and flour to the pan.
Once cool enough to handle shape into patties and cook for 20 minutes in the oven.
Check out beetroot dip and easy salad dressing