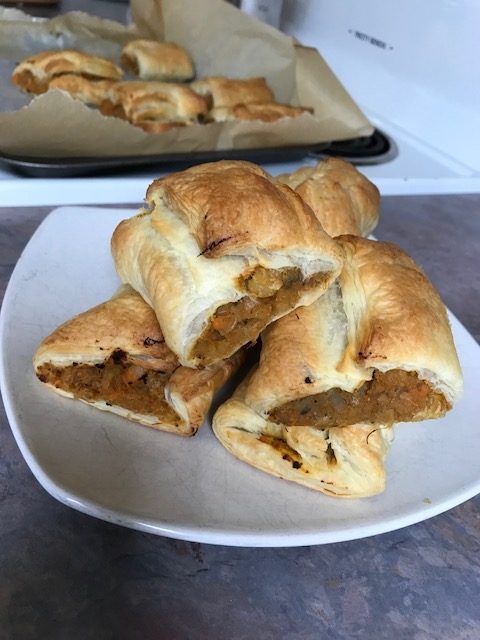 Sweet Potato and Chickpea Rolls
Sweet Potato and  Chickpea Rolls
These days cooking is all about three things for me; healthy, quick and toddler friendly. These meat free version of sausage rolls tick all those boxes. We managed to make enough that lasted for lunch the next day too. I find that having a meal like this for a day where you on the move as no plates/spoons or cutlery is required! Even though chickpeas are difficult to digest for some people the extra spices should help alleviate any bloating or wind they might cause. Give these vegetarian rolls a try and hopefully you will enjoy them as much as I did.
Prep time: 10 minutes
Cook time: 15 minutes
Serves: 6
Ingredients
1 roll ruff puff pastry
1 onion diced
1 small sweet potato, peeled and chopped
1 tin organic chickpeas, drained and rinsed
1 clove garlic
1/2 teasp cumin
1/2 teasp coriander
1/2 teasp fried or fresh parsley
1/4 teasp chilli (optional)
Olive oil
salt and pepper to taste
Method
Preheat oven to 180 degrees celcius
On a large baking tray, roll out ruff puff pastry and cut in halve so you now have two long rectangular pieces.
Boil a saucepan of water and add chopped sweet potato cooking for 5-10 minutes until soft. Drain and set aside.
While the sweet potato is cooking, in another pot add some olive oil over a medium heat.
Once the oil is warm put in onions and saute for a few minutes until translucent.
Then add garlic and all the spices and continue to saute. If the mixture becomes dry, then just add a splash of water.
As soon as the spices become aromatic, add cooked sweet potatoes and chickpeas. Mix well and cook for further 2 minutes then remove from heat.
Use a potato masher to roughly mash and mix together all the ingredients. This can be as smooth or as chunky as you like.
Down the centre line of each of your pastry rectangles spoon in the mixture (as pictured).
Wet the edge of the pastry and fold the pastry over on itself. The wet edge should seal it together.
Slice up the big long rolls into little sausage roll sized pieces.
Place all your pieces on a baking tray and cook in the preheated over for approx 15 minutes until the pastry has puffed up and started to bronze.
Cool and enjoy!
Did you make these? Let me know how they turned out or if you used and variations.
xxx